Boko Haram's bloody attack in Northern Nigeria forced 40 000 people to flee
Boko Haram has killed at least 60 people in an attack on the northeastern Nigeria border town of Rann on Monday, 28 January., Amnesty International reported, calling it one of the deadliest assaults by the extremist group in its nearly decade-long insurgency.
Fighters on motorcycles drove through the town, setting houses on fire and killing people left behind, the international rights group said. 
According to Reuters, the group had already attacked the town on 14 January and forced the troops stationed there to flee. After that initial attack, the Nigerian troops returned with Cameroonian counterparts, but then fled again prior to this most recent attack.
ICC reported, that during the invasion,
Boko Haram rounded up traditional rulers and elders of the community and executed them. They reportedly left one witness alive to tell the story. They also burned down much of the town and forced 30,000 to 40,000 people to flee, many crossing into Cameroon.
Amnesty published satellite imagery that it said showed "hundreds of burned structures." Many likely served as shelters for displaced people who had arrived in recent months seeking protection. Most of Rann is "now destroyed," the group said.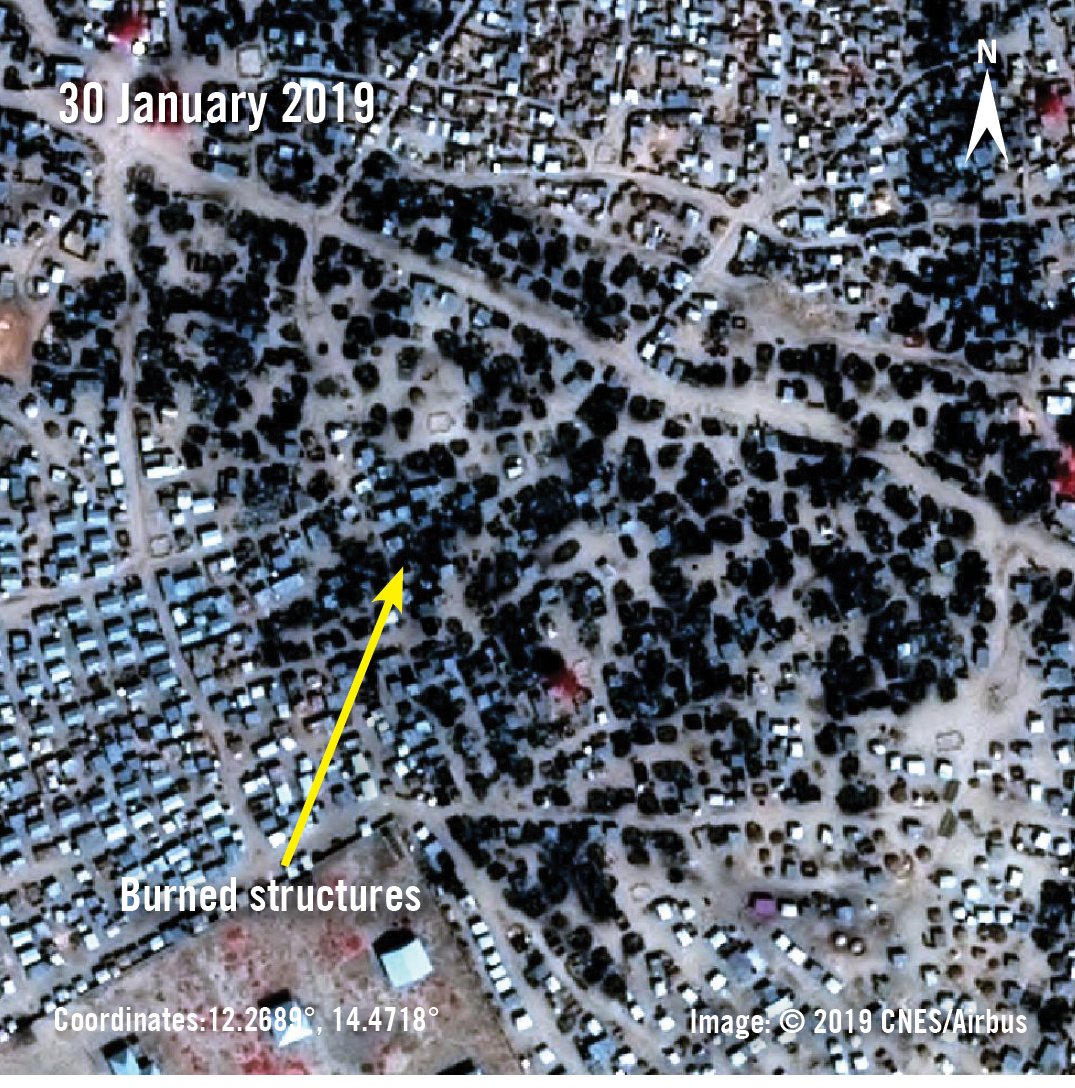 Photo: Twitter/Amnesty International
Osai Ojigho, Director of Amnesty International Nigeria reported, that 
"We have now confirmed that this week's attack on Rann was the deadliest yet by Boko Haram, killing at least 60 people. Using satellite imagery we have also been able to confirm the mass burning of structures as Boko Haram unleashed a massive assault on Rann, most of which is now destroyed. "
He went on saying that ""this attack on civilians who have already been displaced by the bloody conflict may amount to possible war crime, and those responsible must be brought to justice. Disturbingly, witnesses told us that Nigerian soldiers abandoned their posts the day before the attack, demonstrating the authorities' utter failure to protect civilians."
An eyewitness to the aftermath of Boko Haram's attack reported, that "ten of us [Civilian Joint Task Force] came from Cameroon to Rann for the burial. When we arrived, we found and buried 11 corpses within the town, but the soldiers told us that they buried several others … who had decayed. Outside the town, we recovered and buried 49 dead bodies all with gunshot wounds".
Two security sources told Reuters that Nigerian troops had returned to Rann along with Cameroonian troops from a multinational task force after the first attack on Jan. 14.
After the Cameroonians went back across the border, the Nigerian soldiers left because they did not have enough troops, weapons or equipment, the sources said.
The next day, Boko Haram came.
This attack is one of the largest and bloodiest in the past two years and has again proven the complete fallacy of claims by the Buhari administration that Boko Haram has been defeated. As they have continued to gain back ground and force soldiers to flee, the Nigerian government must be prepared to act.
ICC correspondent Nathan Johnson called attention that "during these elections, violence is only likely to escalate, so the Nigerian police and military must be ready to protect its citizens from terror groups such as Boko Haram".
Sources: Reuters, Amnesty International, Persecution, Time
Photo: Reuters